Trust The Columbia Concrete Cleaning Pros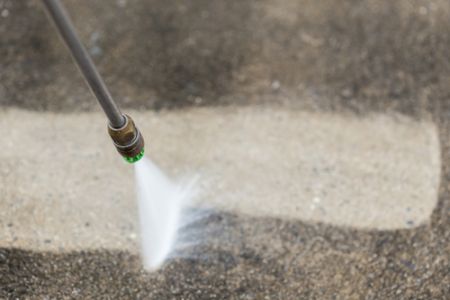 Let us take care of your dirty concrete with our concrete cleaning service for Columbia. Our professionals provide detailed pressure washing the Columbia area and surrounding locations.
Pavement Pressure Washing
Pavement is known for being especially strong and durable, a substance created to withstand a lot of heavy use. However, as challenging as it is, concrete is still not invulnerable to staining and other types of wear and tear. Concrete cleaning is an essential part of exterior maintenance that should never be overlooked.
Whether you have a concrete patio, concrete base, concrete steps, or just a concrete sidewalk, you'll want it to last as long as possible. The best way to ensure your concrete's longevity is with regular concrete cleanings, and we have the tools to keep your concrete in peak condition.
Avoid Driveway Deterioration
Whether natural or man-made, several contaminants can gather on concrete and cause it to deteriorate over time. Mold, mildew, moss, and other growths can wear down even tough concrete over time and eat through the layers underneath. If this concrete is next to or part of a building, this corrosion can deteriorate the building's structure and cause even more problems that are much more costly to repair or replace.
Even if the concrete is an isolated sidewalk, excessive deterioration can cause massive cracks and uneven areas in the concrete, which can be extremely hazardous. Concrete can become slick if it becomes too dirty, and cracks can become tripping hazards, resulting in you or your loved ones getting injured. With concrete cleaning and regular maintenance, you can
Protect Yourself and Your Family
On top of that, if someone becomes injured on poorly maintained concrete that's on your property, you may be held liable and be forced to pay medical compensation for negligence. Once deep enough, your driveway will start to crack and crumble, which consequently will allow weeds to grow. Weeds push cracks open even further to the point where the only solution is to repair or replace your entire driveway. Unattended cracks on your driveway can also lead to damaging the structure of your home.
Maintaining your property with concrete or driveway washings is essential because by keeping it in good condition, you'll keep your foundation safe. If water seeps into cracks or potholes, it can cause water pressure to build on the foundation. This can then result in the foundation cracking or moisture getting into the basement. From there, a slew of additional problems can arise, including mold growth and even electrical fires.
Schedule Driveway Washing Today
Regular cleaning of your concrete can prevent any of these issues from arriving in the first place and save a lot of money when it comes to avoiding costly concrete restoration. Call us today, and we'll give you a free quote for all your concrete cleaning needs. We're dedicated to providing the best pressure washing services around.
Articles & Tips
The Importance of Professional House Washing: Enhancing Curb Appeal and Preserving Structural Integrity

As homeowners, we invest considerable time and effort in maintaining our houses. From regular cleaning and maintenance to interior renovations, we strive to create a comfortable and visually appealing living environment. However, one crucial aspect that often goes overlooked is the exterior of our homes. Over […]

Pressure Washing Safety

When it comes time to give your property its pressure washing, it's always best to hire a professional who can do the work quickly, effectively, and above all, safely. However, maybe you feel the job is something you can handle yourself, and you want to do […]