Your Columbia Driveway Washing Pros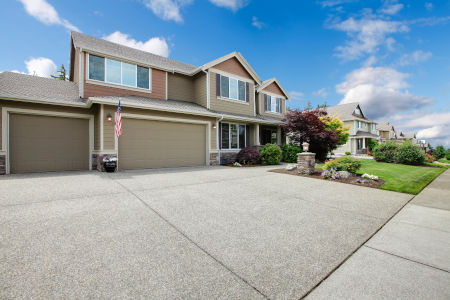 Our professionals offer driveway washing services in Columbia and the surrounding areas. Your driveway deserves attention as it is part of your investment. Driveway washing helps rid weeds that cause cracks, removes slimy patches, and prevents algae/mold growth. The driveway is an area of your home everyone will see, drive, and walk on and, as a result, frequently get dirty. Beyond dirt, elements that collect on your driveway and make it dirty include:
Algae
Mold
Mildew
Oils
Vehicle Fluids
Residue from rain
Rust stains
Parking Pad Cleaning
A driveway or parking pad will pick up more than its fair share of unsightly contaminants, but leaving it dirty for too long can lead to costly consequences down the road. Aside from a lesser curb appeal, there are many reasons you should consider professional driveway washing. Those same substances that blight your driveway's surface are also busy working to destroy it.
Accumulation of algae and vehicle fluid can make your driveway incredibly slick. Over time a slippery driveway can be similar to walking on ice. If your driveway is slick or has excessive cracks or potholes and someone hurts themselves, you could potentially be held liable for the ensuing medical bills.
Lowered Curb Appeal
A dirty driveway won't do your property value any favors since they're one of the first areas anyone notices. Driveway washing will increase your home's curb appeal and even elevate your overall property value. A poorly maintained driveway can lower your home's curb appeal significantly. Even if the rest of your property is stunning, a broken, dented, and bleached driveway will stand out and ruin the overall aesthetic.
Protecting Your Property From Deterioration
Pressure washing also gets rid of substances like algae and acidic materials that can corrode your driveway. They can break through the protective weather sealant coating and into the material beneath. Once deep enough, your driveway will start to crack and crumble, which consequently will allow weeds to grow. Weeds push cracks open even further to the point where the only solution is to repair or replace your entire driveway. Unattended cracks on your driveway can also lead to damaging the structure of your home.
Maintaining your driveway is so important because by keeping it in good condition, you'll keep your foundation and basement safe. If water seeps into cracks or potholes, it can cause water pressure to build on the foundation. This can then result in the foundation cracking or moisture getting into the basement. From there, a slew of additional problems can arise, including mold growth and even electrical fires.
Schedule Your Driveway Washing
Our pressure washing in Columbia is done by professionals who use safe and precise concrete cleaning attachments that give a uniform wash to break apart, remove all unwanted contaminants and help prevent them from returning. Let us restore your driveway to the way it was when it was first poured with our driveway washing service!
Articles & Tips
The Importance of Professional House Washing: Enhancing Curb Appeal and Preserving Structural Integrity

As homeowners, we invest considerable time and effort in maintaining our houses. From regular cleaning and maintenance to interior renovations, we strive to create a comfortable and visually appealing living environment. However, one crucial aspect that often goes overlooked is the exterior of our homes. Over […]

Pressure Washing Safety

When it comes time to give your property its pressure washing, it's always best to hire a professional who can do the work quickly, effectively, and above all, safely. However, maybe you feel the job is something you can handle yourself, and you want to do […]