Concrete Painting & Coating Solutions For Your Columbia Area Exterior Floors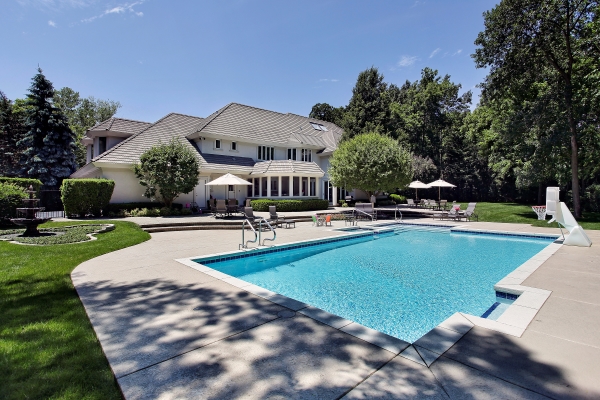 Homeowners in Columbia need of reliable concrete painting & sealing services for their pools, patios, and concrete flooring will want to contact Douglas Co Power Washing to get the job done.
Our company specializes in various types of pressure washing for Columbia, handling things from concrete washing to house washing and plenty more. No matter what kind of pressure washing assistance you need, we're sure we've got what it takes to make you satisfied.
On this page, we want to talk about our concrete painting & sealing package, which can genuinely refine the look and feel of the concrete surfaces around your property.
Concrete is exceptionally tough to clean thanks to its tough exterior. You can't just hose it down with a garden hose and call it a day. You need something a little more aggressive to get the job done. That's where we come in.
We have commercial-grade pressure washing equipment that is able to get deep into your concrete surfaces to draw out even the most stubborn stains and grime. After we're done, the concrete surfaces will look as good as new.
However, once the concrete is clean, you want it to stay that way. This is why it's crucial to find a company that offers concrete painting & sealing. Lucky for you, we provide both.
Concrete Sealing To Protect Your Pavement
Sealing is the act of applying a special chemical agent to an exterior surface in order to protect it from the elements. With concrete sealing, we apply a transparent chemical to the surfaces around your property after we've finished cleaning them. Once this agent dries, not only will your concrete look amazing but it'll also be protected from the forces of Mother Nature. No matter how much rain, sleet, or snow falls, you can have peace of mind knowing that your concrete will be safe.
Learn About Our Concrete Painting Services
Although we're proud of our concrete painting & sealing work, we want you to know that we're a multi-talented company that can offer other specialty services as well, such as concrete painting. Call us today and ask about our interior or exterior painting, as well as our cabinet painting and refinishing service offerings. When you reach out to us, you'll speak one-on-one with a specialist who will address whatever questions you may have.
We're excited to hear from you and to help you transform the look and feel of your home's exterior flooring.
Articles & Tips
The Importance of Professional House Washing: Enhancing Curb Appeal and Preserving Structural Integrity

As homeowners, we invest considerable time and effort in maintaining our houses. From regular cleaning and maintenance to interior renovations, we strive to create a comfortable and visually appealing living environment. However, one crucial aspect that often goes overlooked is the exterior of our homes. Over […]

Pressure Washing Safety

When it comes time to give your property its pressure washing, it's always best to hire a professional who can do the work quickly, effectively, and above all, safely. However, maybe you feel the job is something you can handle yourself, and you want to do […]