Experienced Fence Washing In Columbia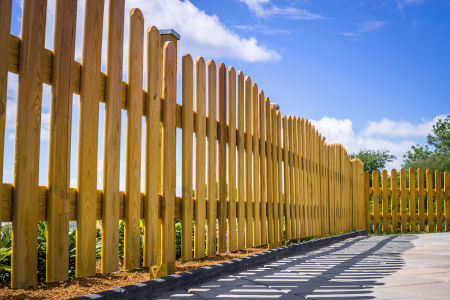 Fences are essential for not only enhancing your property's security but also as an accent to your home's exterior. Our professional pressure washing in Columbia is ready to give you the best fence washing in the area!
Why Should Your Pressure Wash Your Fence?
Whether a fence is used for protection, privacy, or merely acts as an accent to your home, it is essential to ensure it's properly maintained. The elements can cause significant damage to a fence, especially wood, and pressure washing can help prevent future deterioration. With our fence washing service, we'll have your fence looking brand new, all while taking care of any potential degradation.
Fence washing is necessary for maintaining certain fences and can add years of use to your fence. Though different fences have different maintenance requirements, it's always a good idea to get a fence cleaning regardless of what fence type you have.
Wood Fence Cleaning
Wood fences require regular maintenance to preserve them. With a fence washing, we'll clean out the dirt and grime to prevent buildup and discoloration and to maintain your fence's appearance. Mold, mildew, and algae all can damage the integrity of your fence as it causes the wood to rot. Algae and mold also grow and leave tough, green stains on your fence, which can be difficult to remove if left alone for too long.
Even if you have a new wood finish, giving it an occasional fence washing is essential to ensure no problems arise. It's also a necessary step to clean your fence before staining it so that the stain will last longer.
Vinyl Fence Cleaning
Vinyl fences are easier to maintain than wood as there's less concern regarding staining or corrosion, but you'll still want to give it a regular fence washing to ensure dirt and grime don't accumulate. Mold, mildew, and stains can build up on your fence, but these can easily be wiped away to keep your fence looking clean.
Chain Link & Iron Fences
Chain link fences should always be cleaned as soon as possible as mild, grime, and dirt can cause rust to form, which will deteriorate your fence, especially in the rainy seasons. Iron fences similarly require regular cleaning to prevent them from rusting and corroding.
Iron fences are especially susceptible to chemicals or acidic products like fertilizer, pool chemicals, or pest spray and should be cleaned quickly after exposure to such substances. Deck, patio, or porches often require similar care as your fence, so why not complete your property's rejuvenation with a deck cleaning to go with your fence washing.
Schedule Your Fence Washing Today
A regular fence washing will prevent contaminants from building up and leading to the degradation of your fence. For almost all types of fences, it's essential to clean your fence so that you can prolong its lifespan. If your fence has started to rust or rot, it may not be possible to fix the problem just by cleaning it. Let us take care of your fence with our professional pressure washing service, and we'll have your fence looking its best!
Articles & Tips
The Importance of Professional House Washing: Enhancing Curb Appeal and Preserving Structural Integrity

As homeowners, we invest considerable time and effort in maintaining our houses. From regular cleaning and maintenance to interior renovations, we strive to create a comfortable and visually appealing living environment. However, one crucial aspect that often goes overlooked is the exterior of our homes. Over […]

Pressure Washing Safety

When it comes time to give your property its pressure washing, it's always best to hire a professional who can do the work quickly, effectively, and above all, safely. However, maybe you feel the job is something you can handle yourself, and you want to do […]