Quality Columbia Gutter Cleaning Crew You Can Trust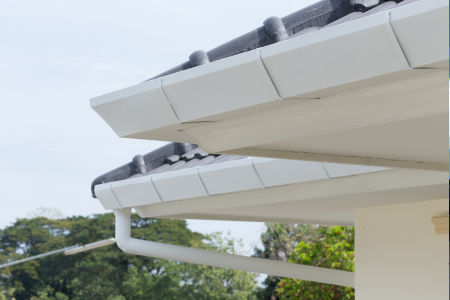 Think your gutters might be overflowing or clogging up? Our gutter cleaning service caters to Columbia and nearby areas to keep your drains functioning properly. Gutters are designed to collect and guide rainwater off the roof, down into the drain, and away from the building, thus preventing potential structural damage.
What a Clogged Gutter Do to Your Home
Clogged or damaged gutters can result in expensive repairs, which can be avoided with a gutter cleaning—potential blockages like leaves, moss, twigs, and other debris can build up over time. When wet, leaves can stick to gutter walls and floors, and the flow of rainwater becomes lodged in corners and downpipes. Over time leaves will break down into compost and become a breeding ground for seeds, moss, and weeds.
If left unchecked, these can overtake your gutters and pipes by blocking the natural flow of water. Eventually, this will lead to the plugging of the downpipes resulting in rainwater build-up and eventually overflow. Scheduling a gutter cleaning is especially important during the winter seasons so water, snow, and ice can't build up and damage your gutters.
Blocked Drains Invite Bigger Problems Down The Road
Trapped water creates a damp haven for moss formation. Tiles that get chipped, cracked, or damaged allow water to permeate the surface. Moss retains moisture and prevents your roof from drying out. This can permeate the tiles and roof, causing damage to your property, especially during the winter, where ice can form in moisture trapped against the tiles or brick.
As a haven for insects, moss also attracts birds, who feed on and dislodge the moss, sending it tumbling into the gutters, causing potential blockages. Regular gutter cleanings will prevent your gutters from becoming a magnet for pests and keep your home contaminant-free.
Infestations
Properties surrounded by overhanging trees, especially pine trees, or with moss growth, should be checked frequently, especially after bad weather, to ensure gutters are free from fallen debris. Gutters filled with leaves make the ideal hiding spot for insect infestations and rodents. Not only does it give them a place to hide and reproduce without your knowledge, but it makes it more difficult to clean.
Rodents carry diseases that can be left behind in their droppings, so the process can be hazardous to people's health and requires extra protective equipment and tools. Pressure washing can prevent such contaminations and infestations by clearing out the blockages and growth from your gutter before it gets worse.
Water Damage
The purpose of the gutter is to collect rainwater off the roof. If it is clogged up with debris, the gutters fill up, and the water continues to splash against your roof, causing water damage. The destruction of your roof requires a repair that can be very expensive, and it's easily preventable by keeping the gutters clean and functioning correctly. Once water is collected in the gutters, it runs down the rain spout.
If the downspout becomes clogged, water spills down the side of your home. This damages the siding and allows mold and mildew to build upon it, and repeated exposure to water can encourage cracks in the foundation. This is also why roof cleaning is essential when maintaining your drainage, as it removes potential blockages and contaminants that accumulate on your roof. The best way to prevent such costly repairs and replacements is by regularly having a gutter cleaning to ensure rainwater will drain adequately.
Gutter Brightening
With our gutter cleaning service, we'll clear out any debris or blockages in your gutters and brighten up your gutter's appearance by removing the buildup of dirt and grime that accumulates on the exterior. We provide pressure washing for Columbia and nearby areas to keep your property in peak condition. Call us today to get a free quote on gutter cleaning and protect your home from the pitfalls of a clogged gutter!
Articles & Tips
The Importance of Professional House Washing: Enhancing Curb Appeal and Preserving Structural Integrity

As homeowners, we invest considerable time and effort in maintaining our houses. From regular cleaning and maintenance to interior renovations, we strive to create a comfortable and visually appealing living environment. However, one crucial aspect that often goes overlooked is the exterior of our homes. Over […]

Pressure Washing Safety

When it comes time to give your property its pressure washing, it's always best to hire a professional who can do the work quickly, effectively, and above all, safely. However, maybe you feel the job is something you can handle yourself, and you want to do […]