Pressure Washing Safety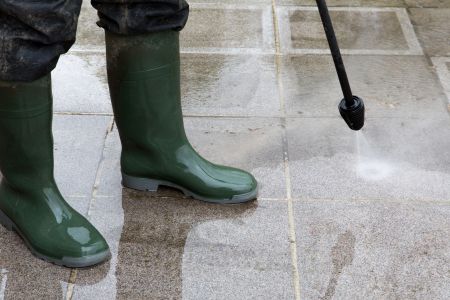 When it comes time to give your property its pressure washing, it's always best to hire a professional who can do the work quickly, effectively, and above all, safely. However, maybe you feel the job is something you can handle yourself, and you want to do it on your own. Before you begin pressure washing, it's essential to go through preventive procedures to ensure your pressure washing safety.
Check Your Pressure Washer
It is essential that you inspect your pressure washing machine and ensure it works correctly before attempting any cleaning job. Check your washer for signs of damage, rust, or excessive wear. If your washer is gas-powered, check the gas and oil levels and make sure they aren't leaking. Checking the machine is especially important if you happen to be borrowing or renting it since there may be pre-existing damage you're not aware of.
Read The Instructions
Many questions or confusions can be solved when you read the instructions. Even if you've operated a pressure washer before, it never hurts to go over the manual, especially if it's a different model or brand. Pay attention to how to operate the sprayer before you begin cleaning. Check the water connections and the electrical wires if it's an electric pressure washer. Take care not to spray water on the electrical outlets; just because they're outside doesn't mean they're waterproof!
Wear Proper Clothing
Wear protective eyewear to shield your eyes from any debris or contaminants that may fly into your face from the water pressure. This is especially important if you're cleaning mildew and mold; you don't want them getting into your eyes. Wear long pants and closed-toed shoes to protect your legs and feet, try to choose clothes you don't mind getting dirty or wet. Always remember that the water coming out of the nozzle is under high pressure. Even if you're using a lower PSI or a wider nozzle head, you can seriously hurt or cut yourself if you're not careful. You should always pay attention to where you're pointing the sprayer, even when it's off, to avoid injuring yourself or others.
Consider Where You're Cleaning
Are you planning on doing a simple house washing, or do you plan on deep cleaning a long-neglected driveway? It's important to consider where and what you're cleaning. If you're cleaning a slick surface or covered with algae, wear non-slip shoes or find a place to stand where you won't risk slipping. However, there are certain areas that you should never consider washing, such as the roof. Attempting a roof cleaning without the proper experience or training is extremely dangerous and can result in severe damage to your home and, more importantly, you.
Always Consider Professional Help
It's understandable if you want to try pressure washing on your own, and some jobs can be quickly done by anyone. However, even with simple pressure washing jobs, it takes time and energy to clean the area. Additionally, depending on how powerful your pressure washer is, you may not get the results desired on your own. Pressure washers are heavy-duty tools, and just like specific power tools, sometimes it's best to leave the work in the hands of professionals for your wellbeing and safety.
Articles & Tips
The Importance of Professional House Washing: Enhancing Curb Appeal and Preserving Structural Integrity

As homeowners, we invest considerable time and effort in maintaining our houses. From regular cleaning and maintenance to interior renovations, we strive to create a comfortable and visually appealing living environment. However, one crucial aspect that often goes overlooked is the exterior of our homes. Over […]

Pressure Washing Safety

When it comes time to give your property its pressure washing, it's always best to hire a professional who can do the work quickly, effectively, and above all, safely. However, maybe you feel the job is something you can handle yourself, and you want to do […]