Types Of Pressure Washers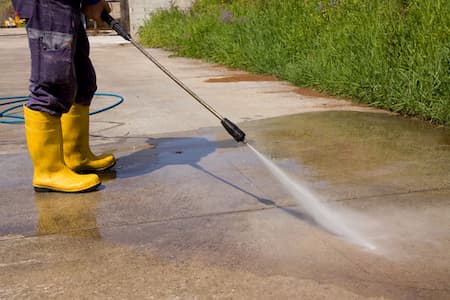 Are you thinking of getting a pressure washer for yourself or just wondering what types of pressure washers to look for in a pressure washing service? There will be many different bells and whistles that come with different pressure washers, but the main difference to look out for when comparing pressure washers is whether it's cold or hot and gas or electric.
Cold Water Pressure Washers
Cold water pressure washers are typically the most widespread pressure washers on the market today. Since they are much more affordable and easier to manufacture, they're most popular to use among regular homeowners looking to purchase a personal pressure washer. Having a cold pressure washer is convenient for having quick access to pressure washing equipment if you're looking to do a short touch-up on your home and its compact size makes it convenient to carry around.
Hot Water Pressure Washers
Hot water pressure washers can reach 311 degrees Fahrenheit, which can cut through grease and oils much more effectively than a cold water pressure washer. This makes it ideal for jobs like driveway washings, where oils can accumulate from vehicles. Additionally, the super-hot water acts as a disinfectant by removing bacteria and mold and effectively killing it to prevent them from returning. Plus, the hot water cleans deeper and quicker than cold water allowing for much faster and thorough surface cleaning. However, because these types of pressure washers can get so hot, it's typically best to leave the handling of such equipment to pressure washing professionals to avoid injury.
Electric-Powered Pressure Washers
These types of pressure washers are best suited for regular home pressure washing jobs. It's essential to check the PSI capacity on the electric pressure washers as they typically will trend towards a lower PSI, but regardless they're very convenient if you want to avoid the fumes and noise of a gas-powered pressure washer. Electric pressure washers do require a power outlet to use, which can limit the distance of use, but regardless they are very easy and enjoyable to use for personal pressure washing jobs.
Gas-Powered Pressure Washers
Gas-powered pressure washers are significantly more powerful than their electric counterparts and are the most widely used because of this. They can cover a much larger pressure washing job with ease without having to worry about extension cords. The higher power of gas pressure washers also means less time and effort will be spent on cleaning. One disadvantage of gas-powered pressure washers is that they produce a lot of noise, and the more powerful the machine, the noisier it will be. Regardless, a gas-powered pressure washer is great for effectively cleaning so many parts of your property in a timely fashion.
Why Hire a Professional Pressure Washing?
The higher quality pressure washers are typically more dangerous and require professionals to handle the equipment safely. Additionally, many different machine designs help us clean specific areas that would take longer and require more effort to clean them on your own.
Articles & Tips
The Importance of Professional House Washing: Enhancing Curb Appeal and Preserving Structural Integrity

As homeowners, we invest considerable time and effort in maintaining our houses. From regular cleaning and maintenance to interior renovations, we strive to create a comfortable and visually appealing living environment. However, one crucial aspect that often goes overlooked is the exterior of our homes. Over […]

Pressure Washing Safety

When it comes time to give your property its pressure washing, it's always best to hire a professional who can do the work quickly, effectively, and above all, safely. However, maybe you feel the job is something you can handle yourself, and you want to do […]